Partners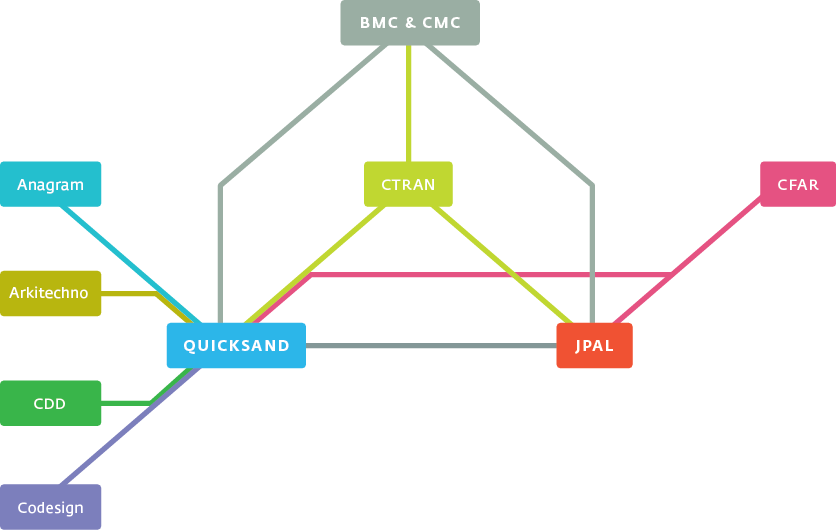 Project Sammaan brings together a diverse group of organizations and government entities united to tackle the sanitation and hygiene crisis in India's urban slums.
Quicksand
Quicksand is a multi-disciplinary innovation consultancy that places user-centered design principles at the core of every innovation effort. The studio has successfully delivered on several new services, products, brands and developmental strategies, creating both measurable social and business impact.
Quicksand is responsible for project management as well as anchoring the hardware design process for the project.
Codesign
A brand communication design studio whose expertise lies in bridging the gap between what businesses need to say and what end-users care about and want to hear.
Codesign is the communication and brand consultant for Project Sammaan and will develop the facility identity and corresponding collateral and create facility signage while ensuring facility-related branding and communication is contextually relevant.
BMC & CMC
The Municipal Corporations of the pilot cities Bhubaneswar and Cuttack are tasked with providing services in sectors such as Health & Sanitation, Slum Development, Urban Planning, and Waste Management to improve the quality of life of their respective citizenries.
The local municipal corporations are key partners in the project and aid in the facilitation of its various components, including providing funding for construction and infrastructure, site selection assistance, land tendering and provisions, and management of sewerage and waste treatment systems.
Arkitechno Consultants
Arkitechno Consultants is a multi- disciplinary firm of consultant engineers offering a full array of consultancy services ranging from concept to implementation. This includes: environmental & social planning, feasibility studies, design review & construction supervision, operations & maintenance and project management consultancy for infrastructure projects, and many others.
They are the main project managers for on-field activities managing tendering as well as facility construction management.
CDD
The Consortium for DEWATS Dissemination (CDD) Society aims to improve the social, economic and environmental conditions of the underprivileged in South Asia, through the development, promotion and dissemination of appropriate, decentralised and affordable basic needs services, comprising of Decentralised Wastewater Treatment Systems (DEWATS), Community Based Sanitation (CBS), Decentralised Solid Waste Management (DESWAM), Decentralised Water Supply Systems (DEWASS) and Decentralised Renewable Energy Systems (DERES).
In Project Sammaan, they lead the design of appropriate on-site waste treatment systems for all of the toilet facilities, including DEWATS on selected sites.
J-PAL
The Abdul Latif Jameel Poverty Action Lab (J-PAL) is a network of 70 affiliated professors around the world who are united by their use of Randomized Evaluations (REs) to answer questions critical to poverty alleviation. J-PAL's mission is to reduce poverty by ensuring that policy is based on scientific evidence.
J-PAL is the primary grantee and the project's principal investigators and are designing and conducting the monitoring and evaluation for the facilities.
CFAR
The Centre for Advocacy and Research (CFAR) is an Indian organization committed to working and partnering with marginal communities. It has expertise in conducting research, process documentation, capacity building and strengthening advocacy by leveraging media and networking to shape and impact policy issues related to urban poor.
CFAR is actively involved in facilitating community interactions in the field, including activities such as social mapping of each slum, community engagement and dialogue during design and construction phases, and facility management training for community members.
CTRAN
CTRAN Consulting manages large, complex development projects, providing a mix of program management and technical assistance.
CTRAN is the one-point contact for interfacing with various government agencies and will establish a Project Management Office within municipal corporations to ensure continued, and future, use and maintenance of the facilities.
Anagram Architects
An award­-winning consultancy internationally recognized as amongst the top emerging practices in the world with a commitment towards delivering innovative, context specific designs that encourage sustainable lifestyles. Anagram Architects is a full spectrum spatial design consultancy firm that offers expertise in urbanism, architecture, interior design, and research.
Anagram Architects leads the architectural design of all the toilet facilities by providing appropriate typology designs, site-specific architectural designs, tender documents and also provides inputs on waste management & construction monitoring.